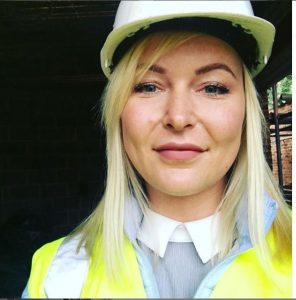 Whenever going to view a new flat or house, we would check there was enough storage space for all our precious belongings (aka rubbish accumulated over many years)! It's a well-known problem in most UK homes, whether it's old Victorian houses or new builds.

With the current property market remaining pretty flat, people are staying put and making their homes their castle by extending, renovating and rejuvenating. Adding an extra room or converting the garage or loft is great, but how do you maximise your new space? And if you can't spend a small fortune on a rebuild, how do you make the most of your existing space? 
Well, that's where Joanna Majewski (BA Hons Interior Design) from Nørdikka Wardrobes can help with her expertise in interior design and bepoke storage solutions. 
Welcome to Herts Carpet Cleaning, Joanna! Please tell us about yourself.
I came to the UK over 15 years ago to do my dream degree – Interior Design. Before graduating, I had a fantastic job offer by one of the UK's luxury kitchen brands (Smallbone) so I stayed and embraced the British way of life. I live with my partner Mike, our daughter Mia who's almost three years old and Yabba our crazy Sprocker Spaniel. We live near the Cathedral and love having the town centre on our doorstep. St Albans and Hertfordshire is such a great place!
What's the passion behind Nørdikka Wardrobes?
The passion for Nørdikka was borne from my passion for design, determination and a bit of luck. After over a decade of experience as a very high end kitchen designer I started thinking about starting my own business.
By coincidence I met a Danish Suppliers Director. At the time I was looking for a bespoke solution for our bedroom. He was able to design it in two minutes. And I had spent about a month running around with my own design trying to find the right supplier ( L shape bespoke Sliding Shaker style wardrobe with exact interior specification).
I instantly spotted a gap in UK market for a really high quality bespoke wardrobes / storage system. And that's how Nørdikka was born.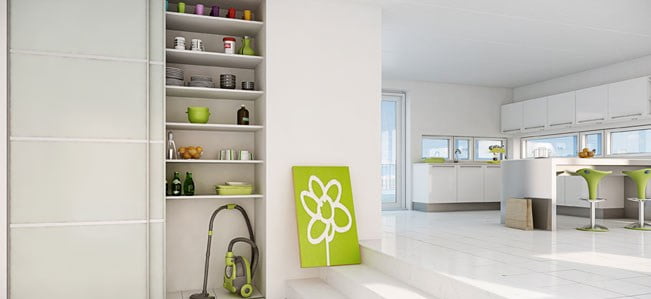 We love a clean home but storage space is almost always an issue. Do you have any easy space saving hacks?
Don't waste the space you have. Utilising floor to ceiling space will give you an additional 30% -50% storage. If you can't avoid gaps over your wardrobe/ kitchen, get some lovely storage containers.
There are special drawers that can be installed into your kitchen plinth / kicker too.
Change your hangers to the super slim ones, it makes such a difference!
Also decluttering from time to time is a MUST. It's so easy to donate / recycle or upcycle and sale certain items.
Top tip: Take a bag of unwanted clothing/fabric items not good for charity to H&M and get a £5 Voucher for it!
I am big on trying to reduce plastic use. You can get laundry capsules by post or detergent sheets –  cleaning detergents in dissolvable sachets that you just mix with water reusing your old container. That way you will save your recycling box space too.
When it comes to smaller space saving items such as baskets or shelves, which ones would you consider must-haves?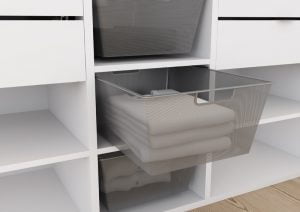 Wardrobes: I am a big fan of wire metal mesh baskets for 'bits' to help with clutter. Shelves are not as practical as any type of pull out.
For shoes a vertical pull out is great.
In the kitchen I love my door mounted spice rack. Le Mans for a base corner unit is a must ( can be retrofitted & available online ) Of course drawer organisers with foil dispensers are lovely too
Utility rooms come in all sizes. What's your advice when it comes to designing the perfect laundry room?
If you are lucky to have space for one, you are ahead of the game.
My perfect utility would be: washer & drier stacked for ease of access, laundry chute from upper floor straight into a basket next to it . Large pull out ' bin ' for the dog food. Loads of shelves and pull outs. Section for hoover charging / mop/ ironing board hook etc.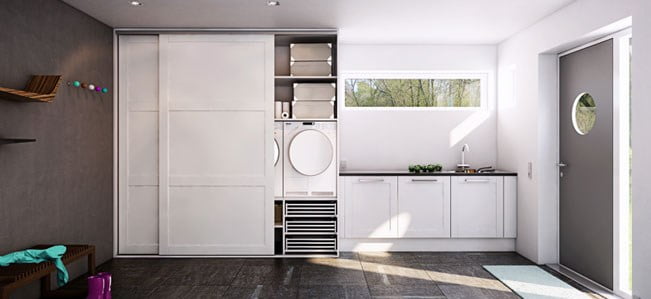 All this behind sliding door for ease of access and space saving. Then also a large sink and a 'doggy shower'. Yes I have designed quite a few! Perfect for winter months also for kids toys, muddy boots etc.
Some wall units up to the ceiling to hide as much as possible. Some drying lines under the ceiling that can be lowered down for the items which don't agree with the dryer.

If you were to redo one part of your home to provide extra space, which one would it be?
I always fancied the under stairs pull out storage . But due to structural issues that is not possible.
I did come up with a solution though. We have 70cm door on the taller side and inside bespoke shelving 40 cm deep matching the slope, creating plenty of storage space(and also doubles up as a 'den ' for our little one with fairy lights and toys! ).
And one last question we like to ask all our guests – what's the one household gadget you couldn't live without?
Oh I love my Dyson Animal cordless. That's the only hoover I have and it's great.
Thank you so much, Joanna! If you have any questions about storage space solutions, get in touch with Joanna. Details below. 
---

Joanna Majewski is the owner of 
Nørdikka Wardrobes based in St Albans, Herts. Joanna is an SBID 2018 Finalist (Society of British & International Interior Design). Contact her on 07802 641 935 or email [email protected]. You can also follow Nørdikka on Instagram. 
---